Custom Commercial and Residential Temporary Vestibule & Patio Enclosures in Brooklyn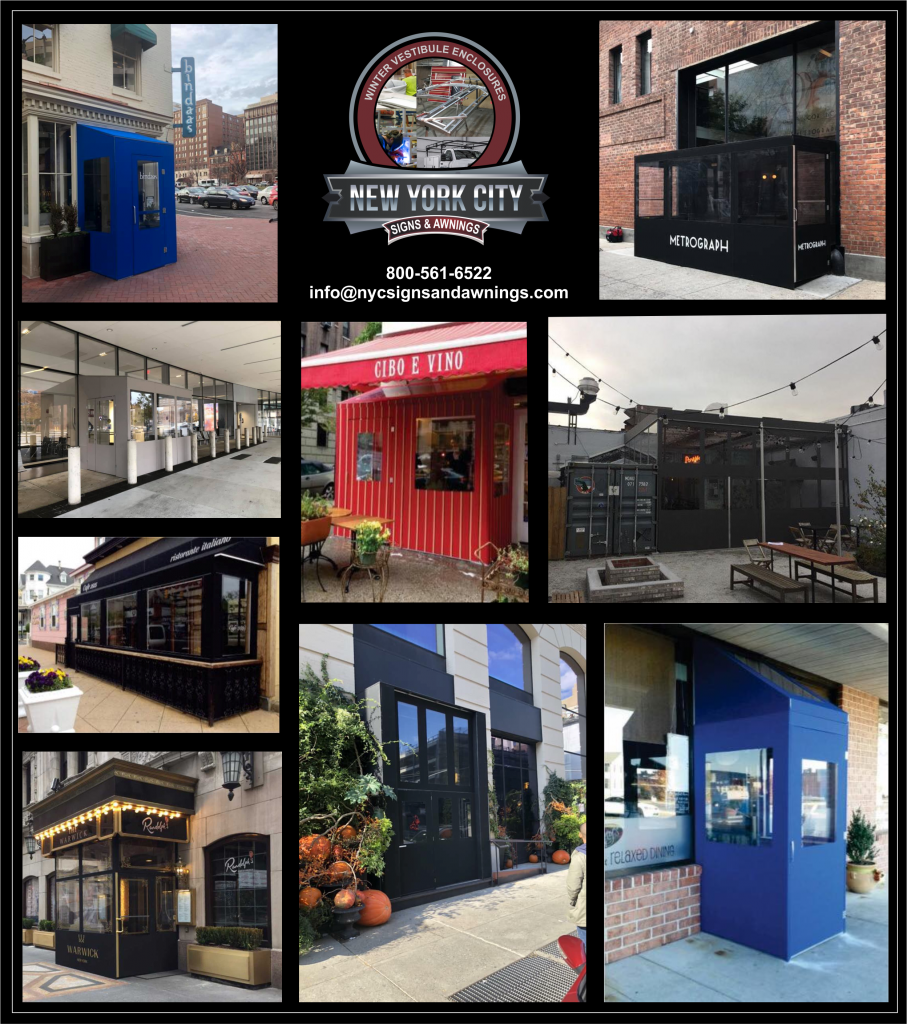 Winter Vestibule and Custom
Awning Enclosures Manufacturing
and Installation in Brooklyn, NY
New York City Signs and Awnings has been operating its expert custom commercial
temporary vestibule enclosure manufacturing and installation business in the Brooklyn
area for over 30 years. Our manufacturing is done in Brooklyn to insure a fast
turnaround time. We have the best designers, manufacturing craftsmen, and
installation people in the New York City Metro Area.
Custom Commercial Winter Vestibules and
Outdoor Dining Enclosures in Brooklyn
Winters can be very cold and very damp in Brooklyn. It's essential to keep your patrons
comfortable in your establishment by preventing unnecessary drafts and cold air from entering when your doors open and thus are susceptible to these drafty conditions. A temporary fabric winter vestibule is the perfect solution to help maintain a comfortable temperature in your building, restaurant, store or office, or retail space.
Our vestibules can be configured to any size or building shape, and designed in any color and with your company graphics or logo. The framing for these structures is sturdy and made from galvanized metals, while the fabric is a durable outdoor fabric that is long-lasting and
easy to care for. We also offer removal, cleaning and storage services for your temporary fabric vestibules so you don't have to worry about them in the off season.
Custom Patio Enclosures in Brooklyn
Looking for more useable space in your restaurant? A fabric patio enclosure can be a
great way to add very needed extra space to accommodate more customers at you already very busy restaurant. Patio enclosures can be heated in the winter and cooled in the summer. Your enclosure can be designed with windows and screens and multiple entry doorways.
Commercial Vestibule and Patio Enclosure
Installation in Brooklyn
New York City Signs and Awnings is proud to serve as Brooklyn's #1 Provider of winter vestibule enclosures. We offer an expert graphic design team that will help you create the look you want and our fabrication team will make it come to life! We offer
installation, maintenance, and storage solution services as well. Request a quote
online or call today to find out more about our custom temporary vestibule enclosures.